Anna Tierney, also known as Anna Tierney Devlin, was hired to interpret at a live COVID-19 press conference a few days ago [3/31/2020] in Dallas, Texas. Deaf viewers were outraged that Devlin was not fluent in ASL and, as if it was not bad enough that they struggled in understanding her, several were also appalled that Devlin "moved through God" to sign out instructions to go to church (which was not what the officials said). Numerous complaints were sent to Final Graphic, a spoken language agency that seems to have no connection whatsoever to the Texas Association of the Deaf, the Texas Society of Interpreters for the Deaf [TSID], and the Deaf community.
Final Graphic posted a formal statement on Facebook as of April 2, which included an explanation that no action has been taken at this time as the agency did not have time to review the video with a qualified interpreter (see screenshot below). Final Graphic, however, insisted that they do check interpreters' certifications through the Registry of Interpreters for the Deaf [RID]. RID has an online database to identify certified interpreters on their website. As of April 5, 2020, a search of RID's database on Tierney (under the names of "Anne Tierney" and "Anne Devlin") in regard to her certification status did not return any results. Put in other words, Tierney does not have RID certification.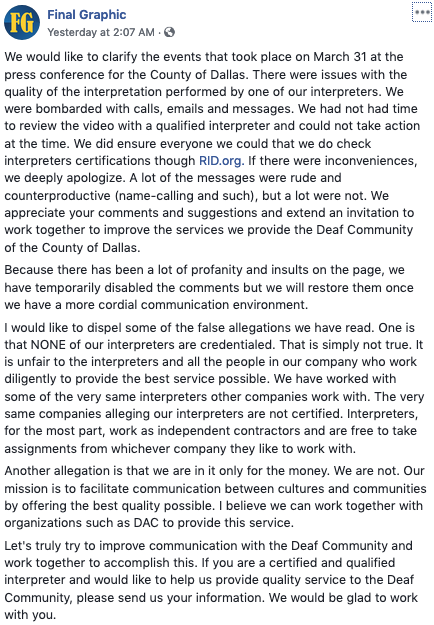 Even though BEI certification is not required in the state of Texas except for legal proceedings and educational settings, further investigation of Tierney's experience and credentials is warranted. Deaf Vee Journal checked the online public BEI Registry for verification that Anne Tierney is certified and there were no results (even when trying a search for "Anne Devlin"), which indicates that she does not have current BEI certification either.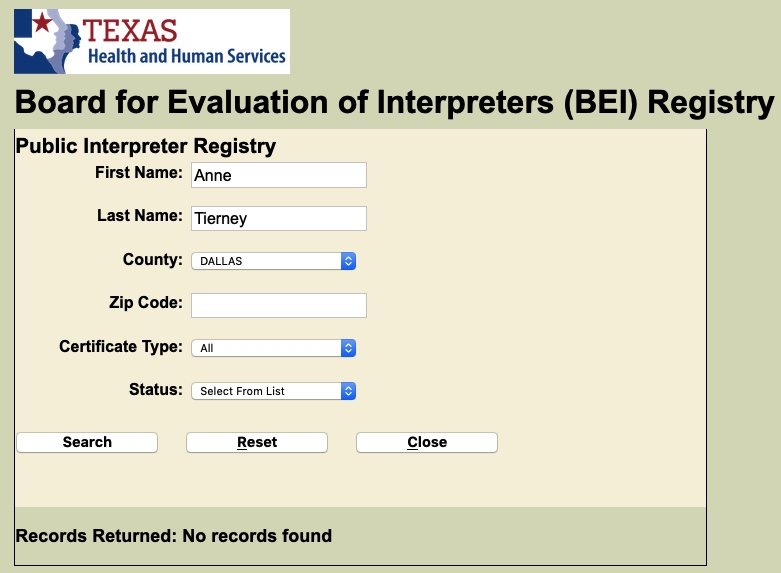 Tierney's LinkedIn profile lists herself as having worked as a Teacher of the Deaf under Colusa County's Office of Education in California for two months in 2015, a sign language interpreter for the Denton Independent School District (in Denton, Texas) for just four months in 2015, a volunteer Teacher of the Deaf at Denton High School, and now a freelance sign language interpreter for two agencies in the Dallas/Fort Worth area (including Final Graphic) for the past five years.
As of the 2019-2020 academic year, the personnel directory shows that no designated "Teacher of the Deaf" position currently exists at any of the school districts under Colusa County. To be hired as a Teacher of the Deaf, even if just in a volunteer role, Tierney would have had to have a valid or pending teacher's credential. The said teacher's credential is not mentioned anywhere on Tierney's LinkedIn or Facebook pages. It is not clear how Tierney was able to work as an interpreter at Denton Independent School District without BEI certification. Other than Tierney's freelance work in interpreting, her experience seems to be lacking.
Also mentioned on Tierney's LinkedIn page is her Bachelor of Science degree in Communication Sciences and Disorders, Deaf Education from Texas Woman's University. Deaf Vee Journal looked up the catalog of programs and majors at Texas Woman's University and was not able to find a Bachelor's degree program for Communication Sciences and Disorders, Deaf Education; it, however, is offered as a Master's degree.
Tierney's Facebook profile shows that she studied ASL at Jefferson Community College in New York, which could mislead others to believe that she was enrolled in an associate's degree program specific to ASL and/or Deaf Studies. Deaf Vee Journal reviewed Jefferson Community College's official course catalog and, while ASL 1 and ASL 2 are offered as foreign language courses, the college does not have a dedicated ASL program, a Deaf Studies program, or an interpreter preparation program.
While this is not an intention to attack Tierney and could be interpreted as such, Deaf Vee Journal is using this instance as to why Dallas County, just like any other city or county or state, must be held accountable for their lack of initiative in research and subsequent poor decision in contracting with a spoken language bank rather than a Deaf-centered interpreting agency. Spoken language banks are not suitable to work with for a few reasons: (1) they often do not understand what Deaf* communities want and need, and (2) the interpreting services are shoddy because their vetting process is so poor, to begin with.
In Texas, a hearing person would have the basic understanding that there are dialect differences between Spanish in Spain, Spanish in Mexico, and Spanish in Texas. Of course, appropriate steps would be taken to ensure that the hired Spanish interpreter is specific to Spanish-speaking Texans, and all that takes is some leg work in research. A simple Google search of "Spanish interpreter Dallas" comes up with the Metroplex Interpreters and Translation Association that is specific to the Dallas/Fort Worth area with a member directory to help organizations find qualified Spanish interpreters. A second Google search of "Dallas organizations serving Mexicans" brings in the third hit of the Greater Dallas Hispanic Chamber of Commerce and the Latino Cultural Center, two credible stakeholders.
Dallas County sought to cut corners and save funds through a contract with spoken language banks, and it put the lives of Deaf* residents at further risk. When it comes to interpreting services for the Deaf*, Dallas County could have reached out (and did not) to the Texas Association of the Deaf, the Texas Society of Interpreters for the Deaf, Deaf Network of Texas, and other critical stakeholders. DVJ readers are encouraged to contact Shay Cathey (shay.cathey@dallascounty.org), Lauren Mish (lauren.mish@dallascounty.org), and Ruby Blum (ruby.blum@dallascounty.org) with Dallas County and recommend specific Deaf-centered interpreting agencies for hire instead. No dollar sign can ever be put on Deaf* lives.