Recently the Registry of interpreters for the Deaf [RID] released a Position Statement on the use of Certified Deaf Interpreters [CDIs] at press conferences.
"The Registry of Interpreters for the Deaf holds the position and fully endorses that Deaf Interpreters are the best to provide this critical information to the masses."
Kelby Brick, the current Director for the Office of the Deaf and Hard of Hearing with the Maryland Governor's Office, tweeted praise of the RID's Position Statement: "Kudos to @RID_Inc for taking such a courageous, albeit obvious, position! We have come a long way!"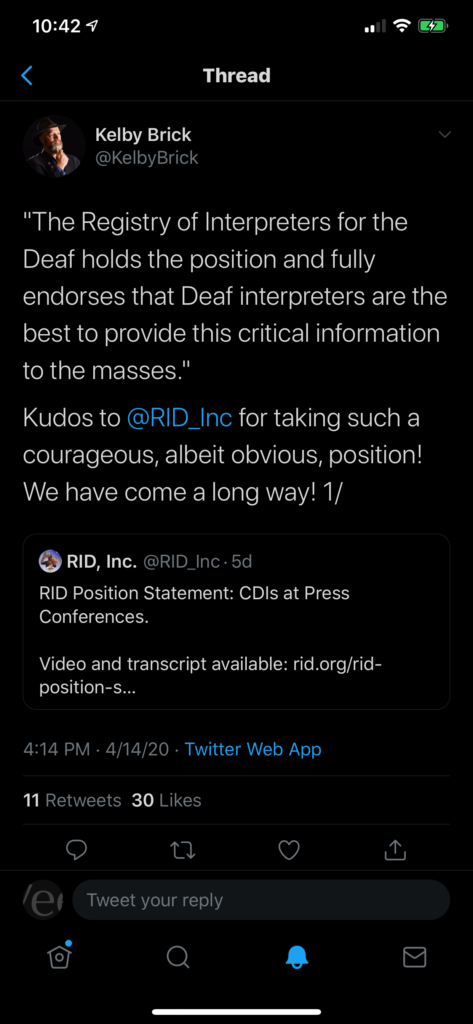 What impact does this actually import? Although the RID's Position Statement on the use of CDIs at press conferences is clear to the audience, is it enough to post it on their official website and advertise this on social media? Position Statements are designed to guide and amplify the views of the RID while educating consumers and decision-makers.
If there was one sentence to summarize RID's Position Statement, this is it: While CDIs are mentioned in the title, every reference in the body of the Position Statement about Deaf Interpreters does not explicitly include the word "certified" before the phrase "Deaf Interpreters."
Is this an authentic effort on RID's part to help Deaf Interpreters gain more employment opportunities, even if they are not certified quite yet? Some believe that it is just another stunt on RID's part to attract more Deaf Interpreters to take their certification exam.
For years, Deaf interpreters have struggled with the design of the RID's certification exam. In a response to the RID's Facebook post, Camarie Zubizarreta commented: "While this is good, what would be more helpful would be opening the CDI test or granting temporary licenses to all CDIs that have passed the written test."
David Anthony also offered his two cents: "It's a nice letter, but there's no teeth. :-(" Anthony's comment leads to another point: how is RID using this Position Statement to achieve the display of Deaf Interpreters during various live COVID-19 presentations as a way to better support the Deaf communities' needs? Is the RID actively sending out their Position Statement to the offices of the President, the White House Coronavirus Task Force, state governors and lieutenant governors, mayors, county public health departments, city officials, local and regional interpreting agencies, major news channels, and other involved parties? As far as Deaf Vee Journal is aware, none of that has happened.

The timing of RID's Position Statement also raises a critical question: Why now? Why wait until now to release this statement? There have been several instances where hurricanes (i.e., Hurricanes Harvey, Irma, Maria across the Caribbean Sea near Puerto Rico and southeast America), wildfires (i.e., Camp Fire, Kincade Fire, and Tubbs Fire in California) and other disasters struck different states.
Community members would like to see the RID put words into action rather than expecting people to pat their back for empty words and lack of action. Deaf Vee Journal sent an email to RID's Communication Director, Bill Milios, to inquire about the RID's future plans with the use of their Position Statement in respect to the national expansion of the CDI workforce, as most areas have shortages in CDIs. No response has been received.