In her letter to the community on Friday, June 12, 2020, President Bobbi Cordano was quick to claim that Kappa Gamma is "the face of systemic racism" at Gallaudet University. Media outlets, such as the Washington Post, have been quick to repeat her statement without first investigating the matter further. As our recent summary of the Student Body Government/Black Student Union Town Hall shows, Kappa Gamma is just a small part of the problem. Jamal Garner, a Black Deaf young man who has recently graduated from Gallaudet University, emphasizes that the racism occurring within Greek organizations on-campus is insignificant compared to the racism encountered from the Department of Public Safety [DPS], Resident Life & Housing, and the administration.
Let's look at what the Gallaudet University's community of Black and Brown Deaf students is saying. We will start with a public #BlackLivesMatter YouTube video published over a year ago that features several students' stories, known as "Dear You" (April 25, 2019). Not once has Theodore Baran, the Director of the Department of Public Safety, ever reached out to any of the students.
Deaf Vee Journal spoke with one individual who reported being terrified for her safety, and the DPS would not do anything about it. This is the story of Salima Ali, and she is one of the hundreds of Black and Brown Deaf students who have had traumatic experiences with DPS personnel. The experiences range from individuals being unable to receive assistance in de-escalating tense conflicts with other classmates, roommates, or faculty members who have been verbally or physically abusive to them to those who sustain severe personal injuries from cases of excessive use of force.
One of my roommates had two of her friends over—two were Delta Zeta new members and one was a Delta Zeta sister (and all three were White)–and they ordered me to move the table because the food on the table (popcorn) was bothering them. I would not accept being ordered, so I started to leave the lobby and walk towards my room and that was right when they threatened to put me in harm's way. Instead of considering me a human being with feelings, the three ladies caused me great fear.
Sure, I had issues with this roommate since the beginning of that semester, but this was the first time I received an outright threat from her. I asked for assistance from DPS to resolve this matter, only to be dismissed.
When the DPS officer blew me off, I went directly to Theodore Baran, the Director of DPS. Baran basically told me that it was not a big deal and did nothing about it. His demeanor made me feel like I was wasting his time, and I felt downright uncomfortable with him. Baran traumatized me with his hostility and ignorance towards my needs that I had to cope by going to counseling among other strategies.
This is a graduate student who experienced hostility from multiple White individuals: her roommate, two of her roommate's friends, the reporting on-duty DPS officer, and the head of DPS himself. All of these individuals abused their White privilege, and it was clear that the safety and well-being of this student was never a priority for Theodore Baran. This is just one example of the hostility students of color experience day in and day out on campus.
The Department of Public Safety at Gallaudet University has a long history of police misconduct and brutality against Black and Brown Deaf students with subsequent cover-ups and intentional deception on reports. The extent of corruption goes all the way to the top. Baran joined the DPS as Director on April 26, 2011, and was later inducted as an Honorary Kappa Gamma Brother in 2017.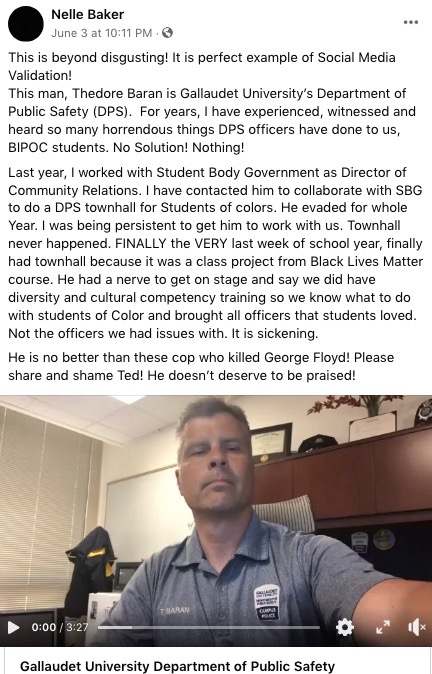 Baran published a video on Gallaudet University's official Department of Public Safety Facebook page where he condemned how the Minneapolis Police Department mishandled the George Floyd case and stated he was in solidarity with the #BlackLivesMatter movement.
Nelle Baker shared a written post on Facebook pointing that Baran's signed statement is in direct contradiction to his demonstrated historical pattern with Black Deaf students, and her post highlights just how far Baran is willing to go in sidestepping departmental accountability.
What happens when the authority of DPS officers go unchecked? Carl Dupree was attending Gallaudet University as a student in 1990 when DPS officers, who were not fluent in ASL, restrained him using the chokehold and he suffocated to death. Dupree's family sued Gallaudet University for $35 million, and the university settled out of court with them. Here is a recent video of how one DPS officer interacted with a Black Deaf student.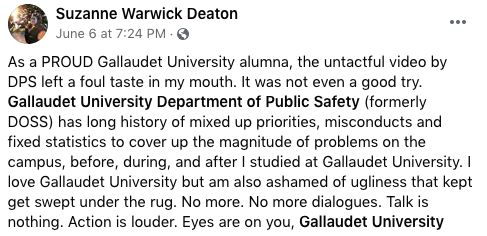 When asked what Black Deaf students would want to see from the Department of Public Safety, one of the action items an anonymous student stated was: "Mr. Baran has to go."
Sickened by this? You can do something about it now! Go contact the Board of Trustees in support of the National Deaf Black Advocates' demand for action. You can find our e-mail template here, on the bottom half of the webpage.
Correction: Jamal Garner did not make the statement calling for Mr. Baran's departure. The article has been updated to reflect that it was actually another Black Deaf student who wishes to keep their name anonymous. We apologize for the error. –Piper